All media
Download in one zipped file (350 MB)
Factsheet
Download factsheet (PDF)
Press Booklet (April 2018)
Download press booklet (PDF)
Trailer
Nintendo Switch Teaser Trailer
https://youtu.be/fo1aFQr1vH8
PS4 & Xbox One Release Trailer
https://youtu.be/-8HV6fco2C0
Launch Trailer
https://youtu.be/QHG8Z7WDvAo
Gameplay Trailer
https://youtu.be/_QiC8pNfYl4
Hi-res key art
Download packshot (vertical, PDF)
Download poster (horizontal, PDF)
Screenshots
Download all screenshots (zipped PNGs)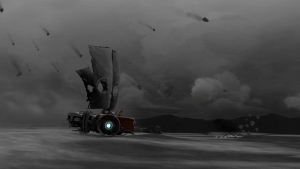 Game logos
Download all game logos (zipped PNGs and TIFs)
DLCs
Audio sample digital soundtrack:
https://soundcloud.com/mixtvision/half-far-lone-sails-original-soundtrack-teaser-track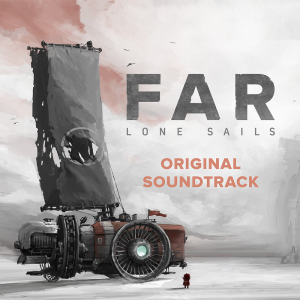 Sample pages digital artbook:
Download all sample pages (zipped PNGs)
Company logos
Download all company logos (zipped PNGs)

Download factsheet (PDF)
Description
"FAR: Lone Sails" is a vehicle adventure game. The player needs to maintain and upgrade their unique vessel to traverse a dried-out sea.
Facts & Figures
Game Title: FAR: Lone Sails
Release Dates & Platforms: October 22, 2020 (App Store and Google Play); August 18, 2019 (Nintendo Switch); April 2, 2019 (PS4, Xbox One); May 17, 2018 (PC, Mac)
App Store: https://apps.apple.com/us/app/id1525515023
Google Play: https://play.google.com/store/apps/details?id=ch.misterwhale.far
Nintendo Switch (America): https://www.nintendo.com/games/detail/far-lone-sails-switch/
Nintendo Switch (Europe): https://www.nintendo.co.uk/Games/Nintendo-Switch-download-software/FAR-Lone-Sails-1614981.html
PlayStation  4 (America): https://store.playstation.com/?resolve=UP3178-CUSA14846_00-0000000000000000
PlayStation 4 (Europe): https://store.playstation.com/en-gb/product/EP3037-CUSA12901_00-0000000000000000
PlayStation 4 (Japan): https://store.playstation.com/ja-jp/product/JP1561-CUSA16034_00-0000000000000000
Xbox One: https://www.microsoft.com/en-us/p/far-lone-sails/9p5x7892qpdl
Steam Store Page: http://store.steampowered.com/app/609320/
Humble Store Page: https://www.humblebundle.com/store/far-lone-sails
GOG Store Page: https://www.gog.com/game/far_lone_sails
Genre: Atmospheric Vehicle Adventure
Playtime: 3-4 hours
Base Price: 14.99 $
DLCs: Digital artbook, digital soundtrack (also available on Spotify, Bandcamp, iTunes, and Google Play Music)
Developer: Okomotive
Publisher: Mixtvision
Key Features:
Master your vessel: Maintain and upgrade your vehicle to overcome numerous obstacles and natural hazards.
Discover a unique world: Explore a desolate dried-out seabed, follow the trails of your people and find relics and buildings, that tell the story of a civilization on the run.
Experience an atmospheric journey: Let the sky full of clouds pass by and heed the wind that drives your sails towards the horizon.
A Zombie-free Post-Apocalypse: It's just you and your machine vs. the big nothing.
Story:
Under cloud-strewn skies, the player travels across a seemingly endless dried-up sea, littered with the remains of a once vibrant seafaring civilization. The game's world is largely devoid of life, yet filled with places to explore and history to discover.
What once was the bottom of an ocean, has turned into a graveyard for submarines and super tankers. Once bustling island settlements have decayed into hilltop ruins. What secrets do they hold? And more importantly… is there any salvage to be found?!
While the greater goal of the journey remains to be uncovered by the player, urgent short-term necessities call for immediate action. The train-like vehicle needs to be fueled, maintained and upgraded to master the challenges that lie ahead…
Awards & Recognition:
Pocket Gamer Awards Best Narrative Game 2021 (Nominee)
Pocket Gamer Awards Best Mobile Conversion 2021 (Nominee)
TapTap Award Best Indie Game 2020 (Winner)
Reboot Develop Blue Indie Award Game of the Year 2019 (Winner)
Deutscher Computerspielpreis Best International Game 2019 (Nominee)
Swiss Game Awards Main Prize 2019 (Winner)
Swiss Game Awards Audience Choice Award 2019 (Winner)
Game Developers Choice Awards Best Debut 2019 (Honorable Mention)
TOMMI Kindersoftwarepreis 2019 (Nominee)
Deutscher Entwicklerpreis 2018 Best German Game (Winner)
Deutscher Entwicklerpreis 2018 Best Game-Design (Winner)
Golden Joystick Awards Best Visual Design 2018 (Nominee)
IndieDB Indie of the Year Top Ten 2018
NAVGTR Awards "Game, Puzzle" 2018 (Nominee)
Dreamhack Atlanta & Winter Art Gallery Official Selection 2018
Into the Pixel Selection 2018
QUO VADIS Indie Award Audience Award 2018 (Winner)
QUO VADIS Indie Award Jury Award 2018 (Winner)
Unity Awards Best Student Project 2017 (Winner)
GDC Play Best in Play 2017 (Winner)
IGF Best Student Game 2017 (Finalist)
AdoptMyGameAward Best Game 2016 (Winner)
PLAY16 Most Innovative Newcomer Award 2016 (Winner)
Best of Indie Arena Booth 2016 (Winner)
Gamescom Indie Award 2016 (Nominee)
Independent Games Festival Best Student Game 2016 (Honorable Mention)
Ludicious Outstanding Talent Award 2016 (Winner)
Game Connection Europe Best Desktop / Downloadable Game 2015 (Nominee)
Deutscher Entwicklerpreis: Blue Byte Newcomer Award 2015 (Winner)
ZHDK Förderpreis BA Design 2015 (Winner)
Team and Social Media:
Don Schmocker: Creative Lead & Game Designer
Goran Saric: Tech Lead & Game Designer
Martina Hugentobler: Artist & Animator
Philipp Stern: Artist & Level Designer
Fabio Baumgartner: Programmer & Sound Designer
Joel Schoch: Composer & Sound Designer
Website: https://www.far-game.com
Twitter: @FARtheGame
Facebook: FARtheGame
A mournful yet bright and enormously warm-hearted adventure with a novel landship mechanic, sublime backdrops and a brilliant score.
– Edwin Evans-Thirlwell, Eurogamer.net
A lonely, contemplative journey across a barren landscape … I really enjoyed it.
– Andy Chalk, PCGamer.com
Far: Lone Sails is the kind of game that sticks with you after seeing credits. It delivers a fascinating mystery in a strange land with engaging puzzles, and couples that with a relationship between the player and their oversized mode of transportation.
8.25 / 10
– Kyle Hilliard, Gameinformer.com
I was caught off guard by how emotionally attached I became to not only a silent protagonist but to my vessel. … The first time my vessel successfully accelerated and the lovely, spellbinding soundtrack began to play I felt a sense of joy I seldom feel when playing games.
8 / 10
– Jay Krieger, Culturedvultures.com
Far: Lone Sails is a poem disguised as a video game … The payoff is standing at the prow, watching the fantastical landscape roll by in the background. Rather than perks and unlocks, the reward here is quiet contemplation. … Far is greater than the sum of its parts.
– Charlie Hall, Polygon.com
Through excellent gameplay mechanics, phenomenal presentation, and a touching atmosphere, FAR: Lone Sails is the best indie game of 2018 thus far.
5/5 – Masterpiece
– Brendan Lorry, Windowscentral.com
FAR: Lone Sails is a transfixing, lovely experience … It's short enough that you could play through it in a single two or three-hour session, but it will likely stick with you for a long time. I can see myself going back in a few months just to revisit the ship, like checking in on an old friend.
8/10
– James O'Connor, Gamespot.com
Wonderfully eerie and atmospheric, with a painterly grey-hued palette, you discover the stark narrative via ruins and wrecks. A striking game … a subtly moving experience.
– Holly Nielsen, The Guardian
Una pequeña joya.
– Ángel Luis Sucasas, El País
For PR enquiries please contact press@assembleteam.com